OUR SOCIETY FOUNDER AWARDED BY AIA

The Archaeological Institute of America (AIA) awarded Dr. Melva Price (center) the 2022 Foot Soldier Award. This important award is given to an AIA local society member who has donated their time and expertise to keep their society vibrant.
Dr. Price is a resident of Atlantic Beach, Florida and is the founder of the Archaeological Institute of America - Jacksonville Society (JAX SOC). She joins a distinguished international group of archaeology enthusiasts who have received this award. Dr. Price was recognized for this achievement at a meeting at the University of North Florida by Dr. Jacqueline Meier, JAX SOC Vice President (left) and Nancy Scott (JAX SOC President).
PUBLIC ARCHAEOLOGICAL FIELD SCHOOL
Hosted by the NPS, Timucuan Ecological and Historic Preserve - June 2015
About the dig: In 1684, the Spanish decided to move their Mission San Buenaventura de Guadalquini from St. Simons Island, Georgia, to protect the community from French and English slave raiders. The group, comprised of mostly Native Americans, relocated to Black Hammock Island, Florida, and the new mission was referred to as Santa Cruz y Buenaventura de Guadalquini, often called simply Mission Santa Cruz. It was inhabited from 1684 until 1696. Two previous excavations conducted by the University of North Florida(UNF) established the location of the mission. This public archaeological field school will further develop the conclusions reached during the previous excavations.
LEARN MORE ABOUT TIMUCUAN ECOLOGICAL AND HISTORIC PRESERVE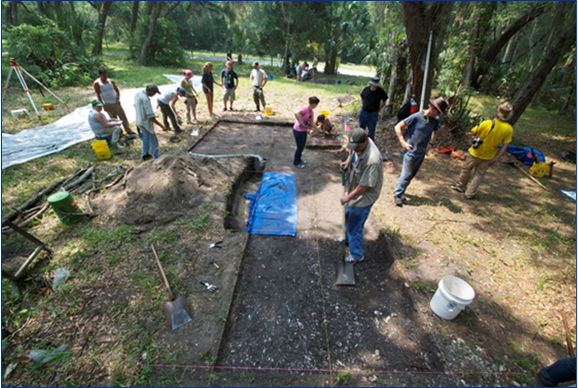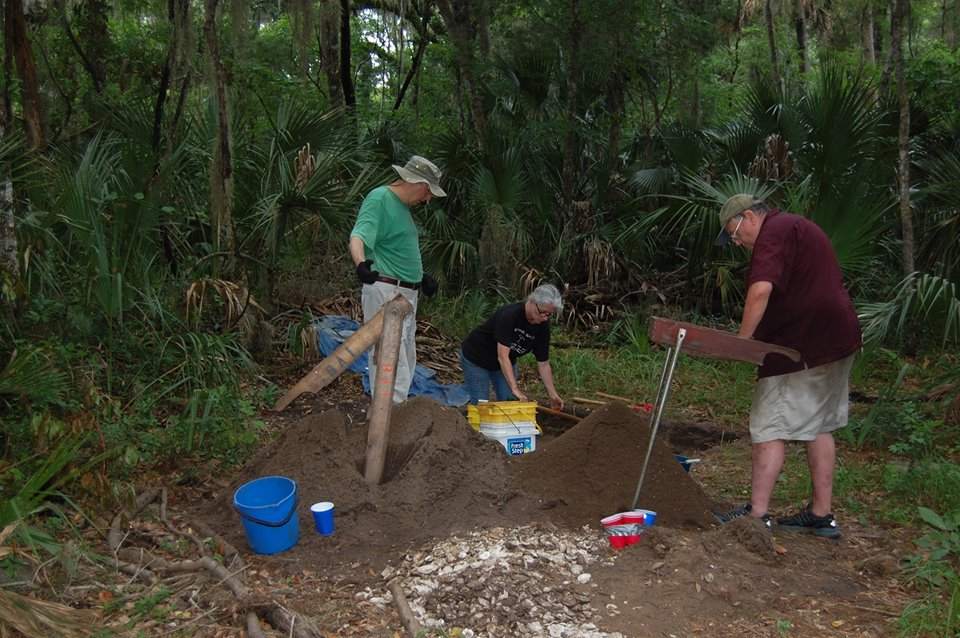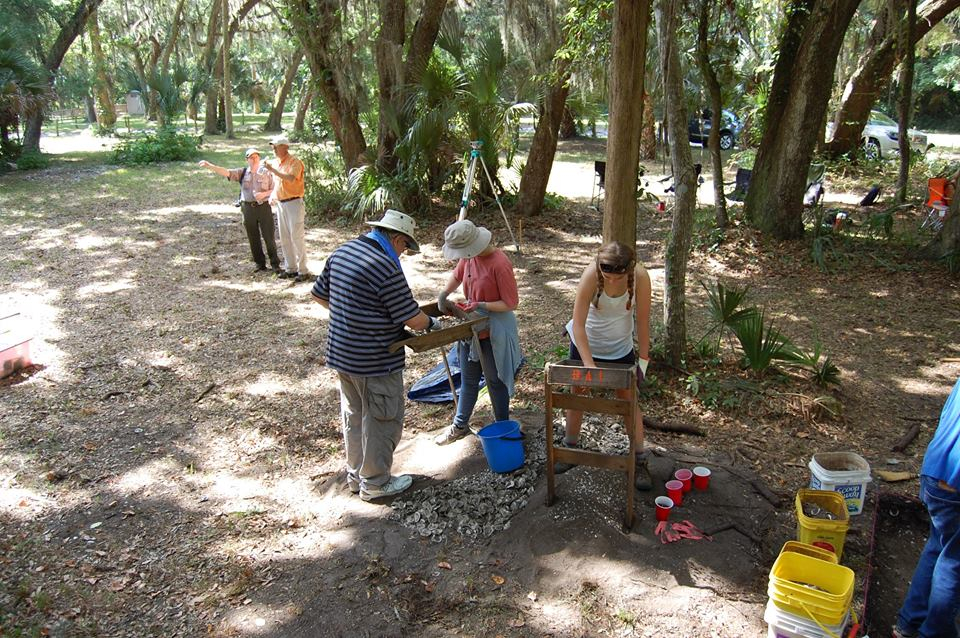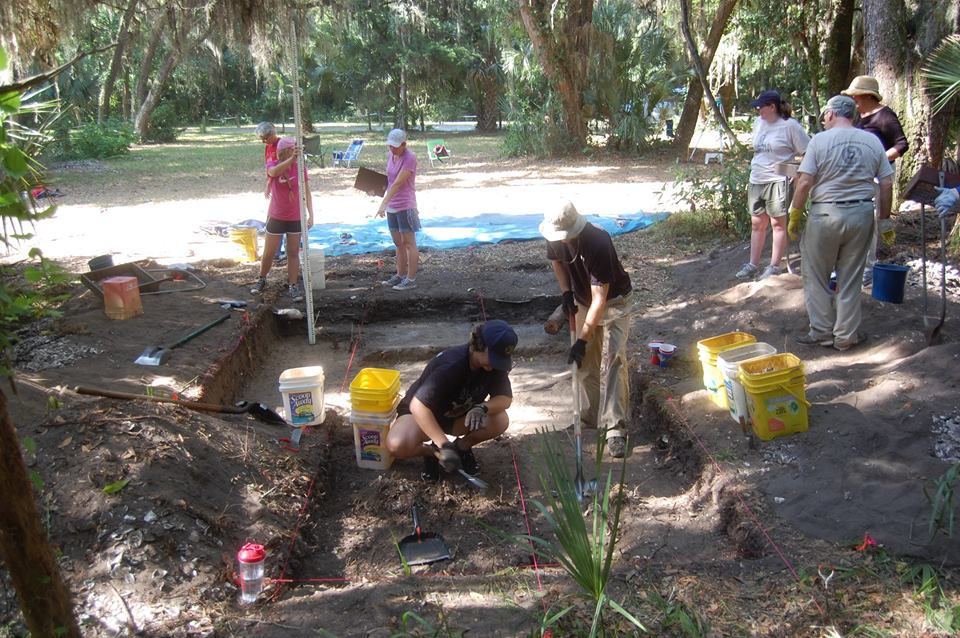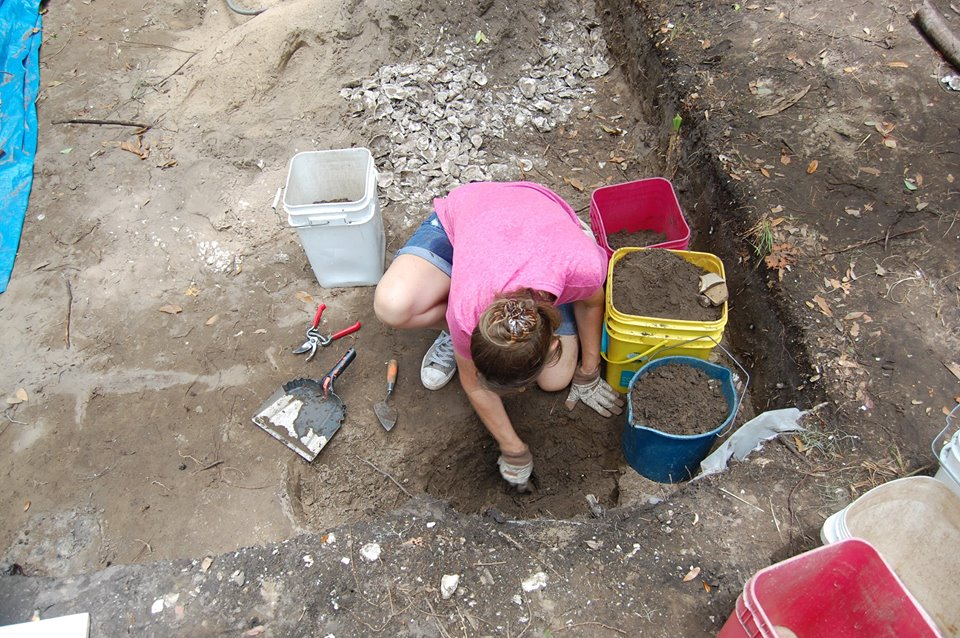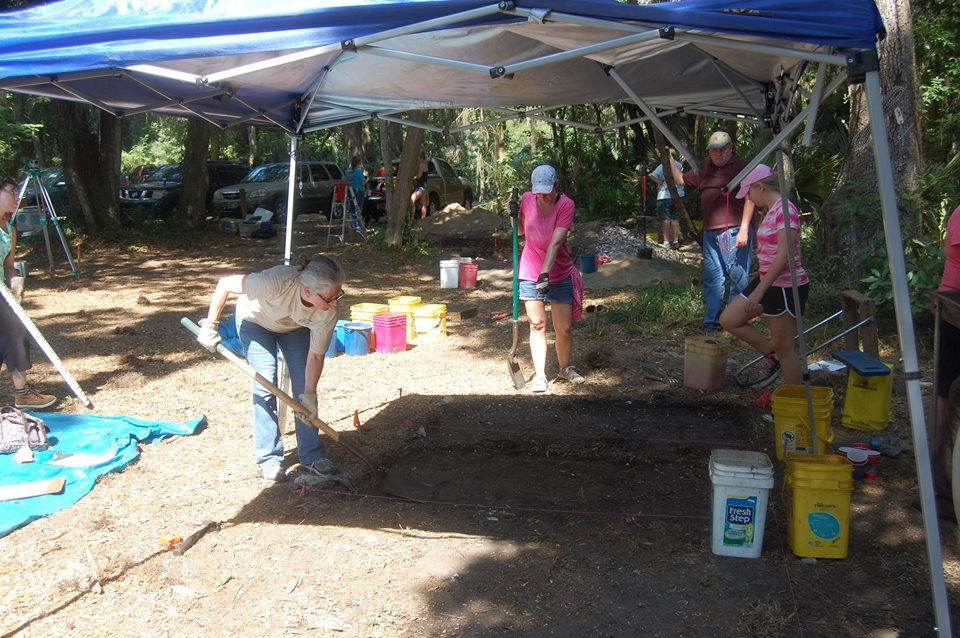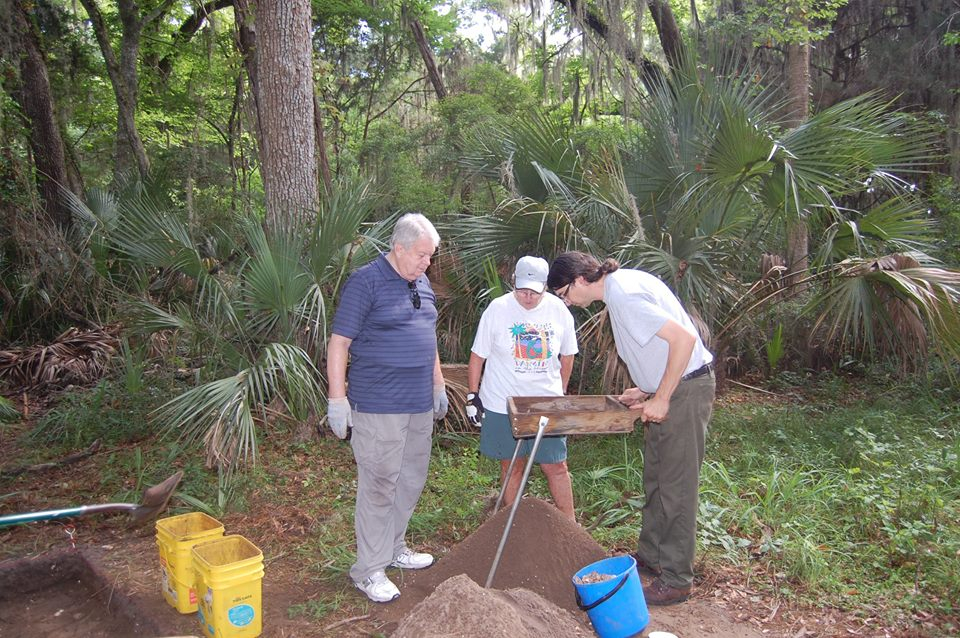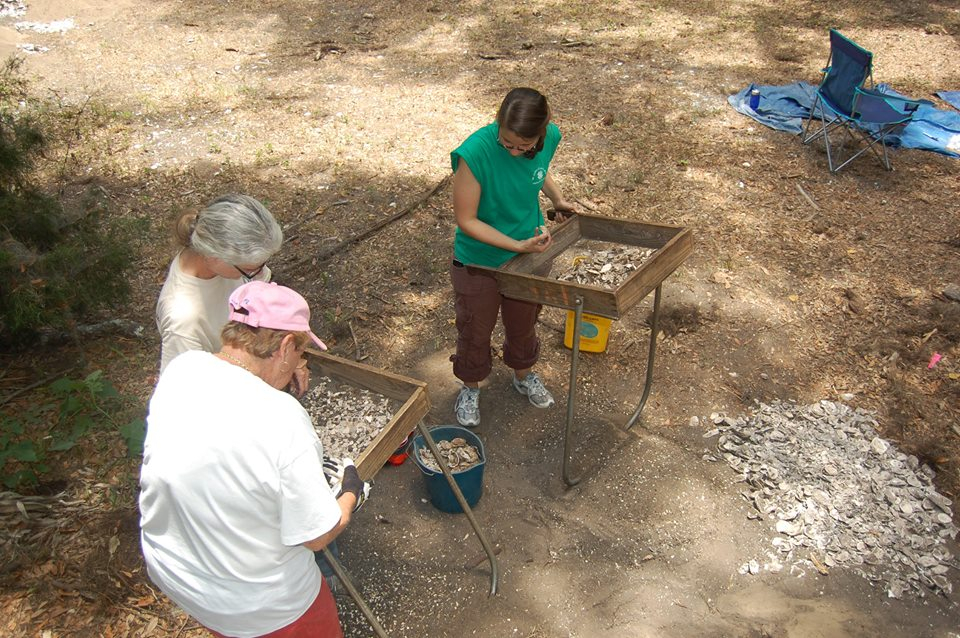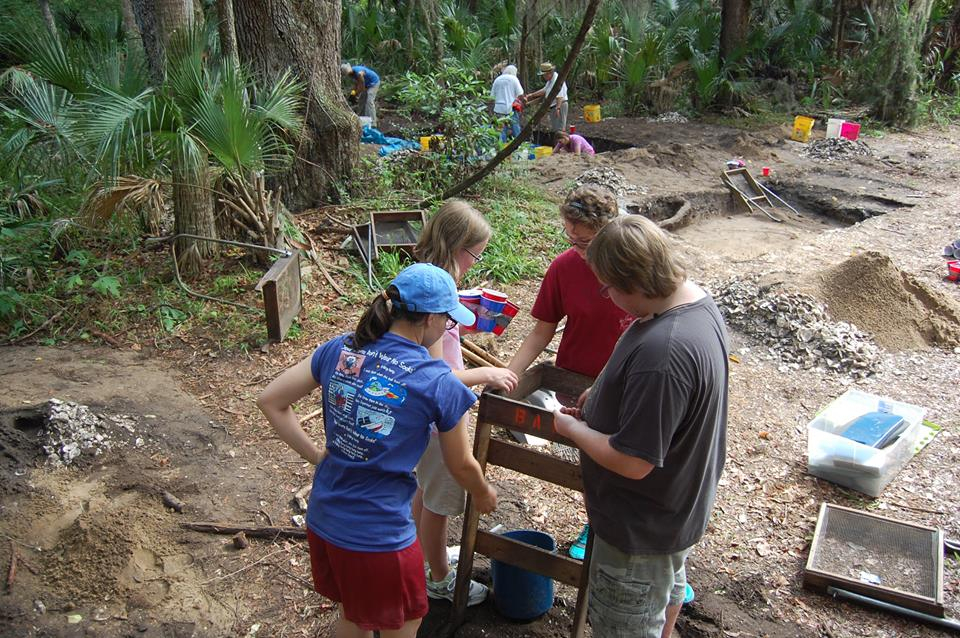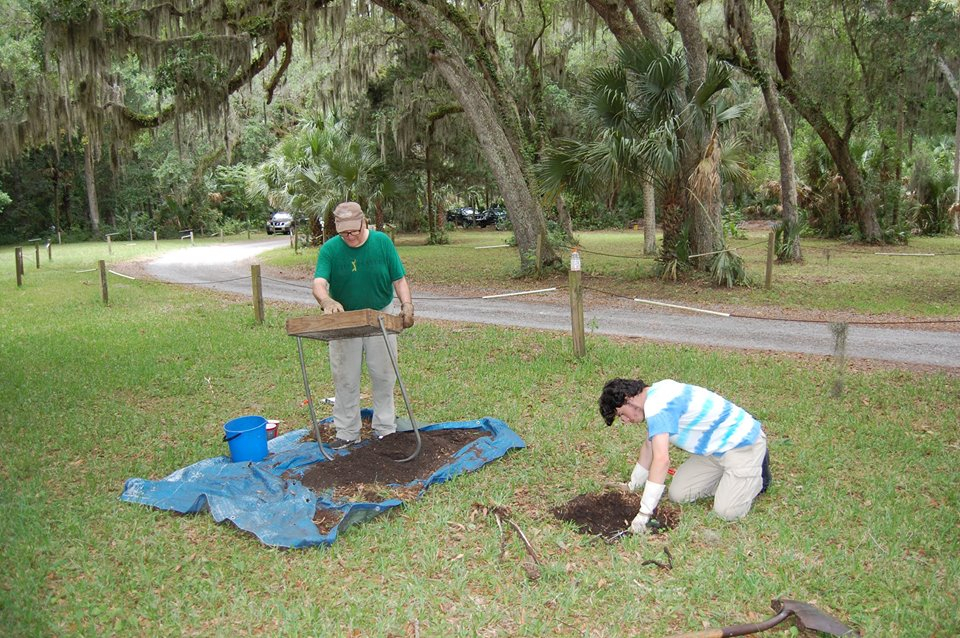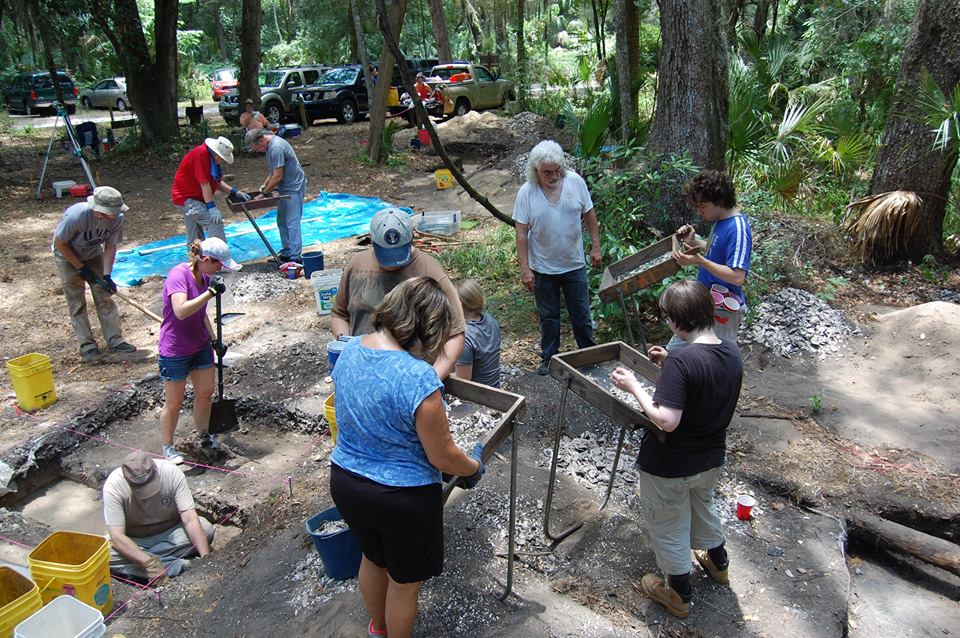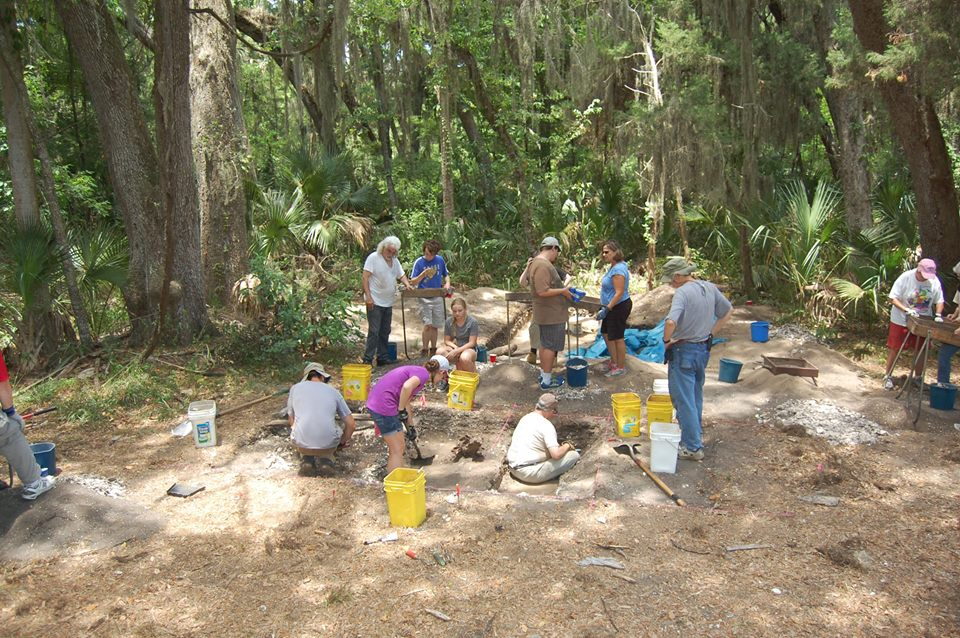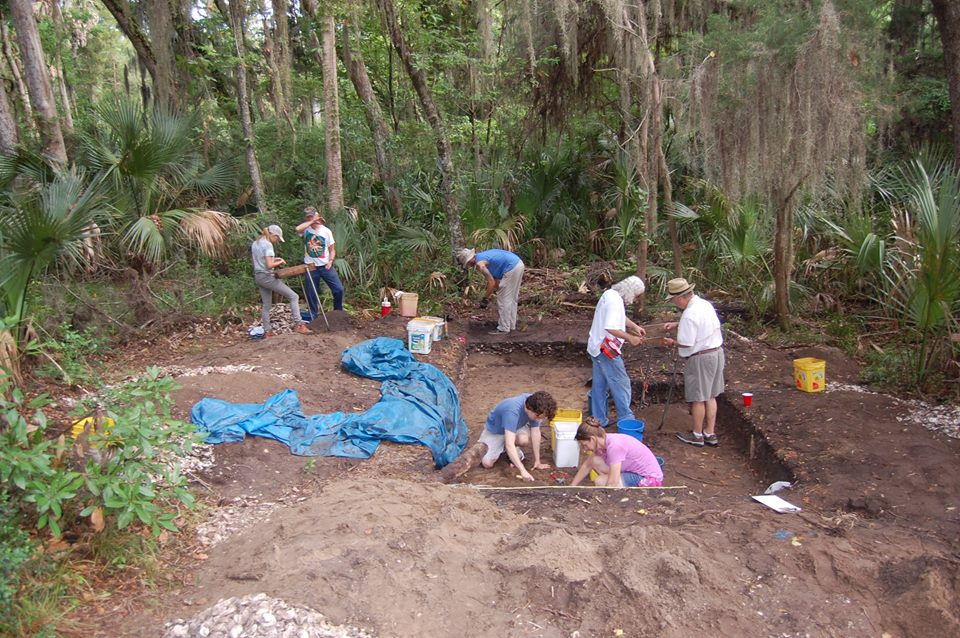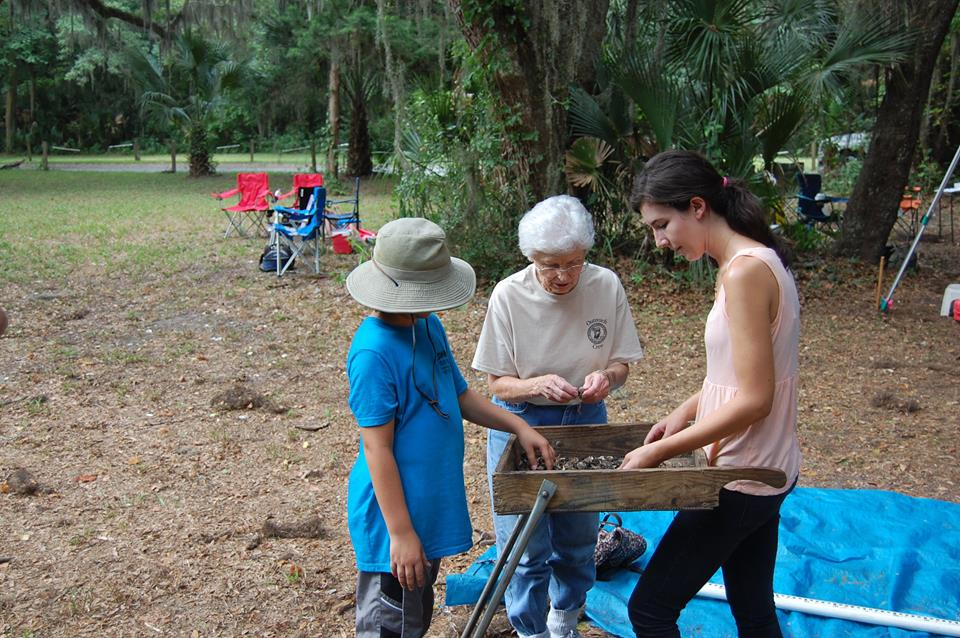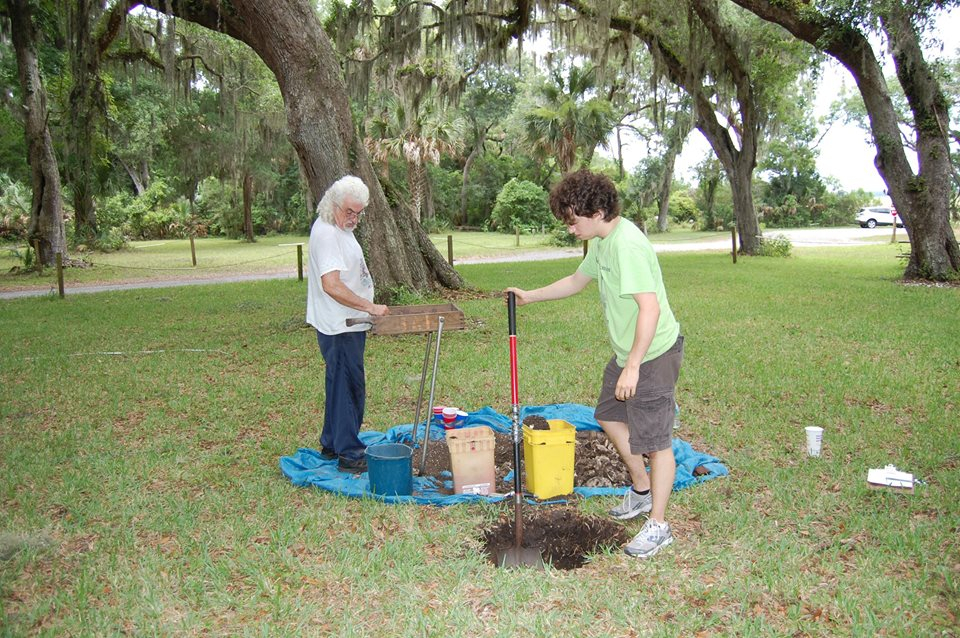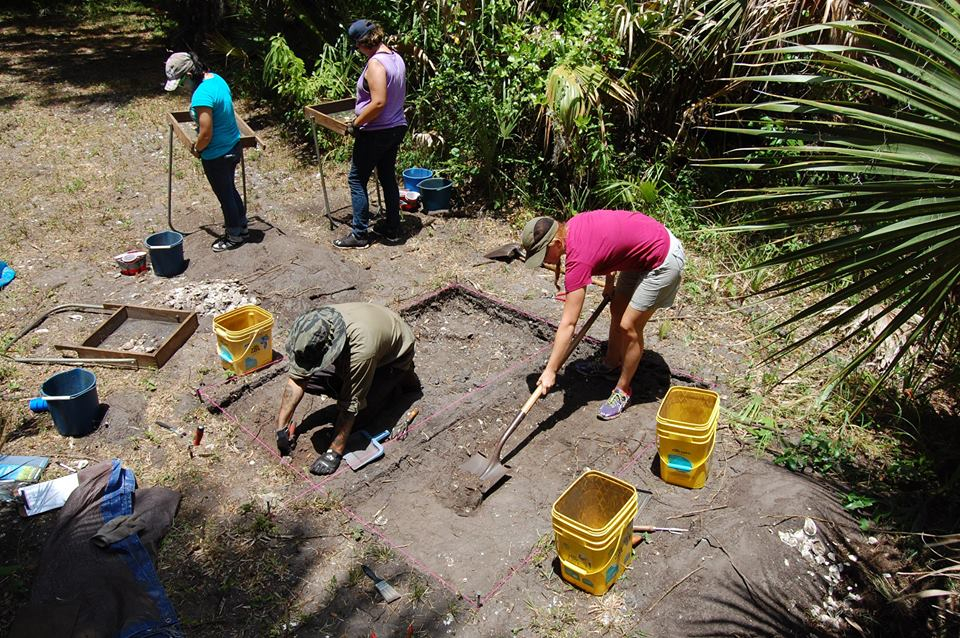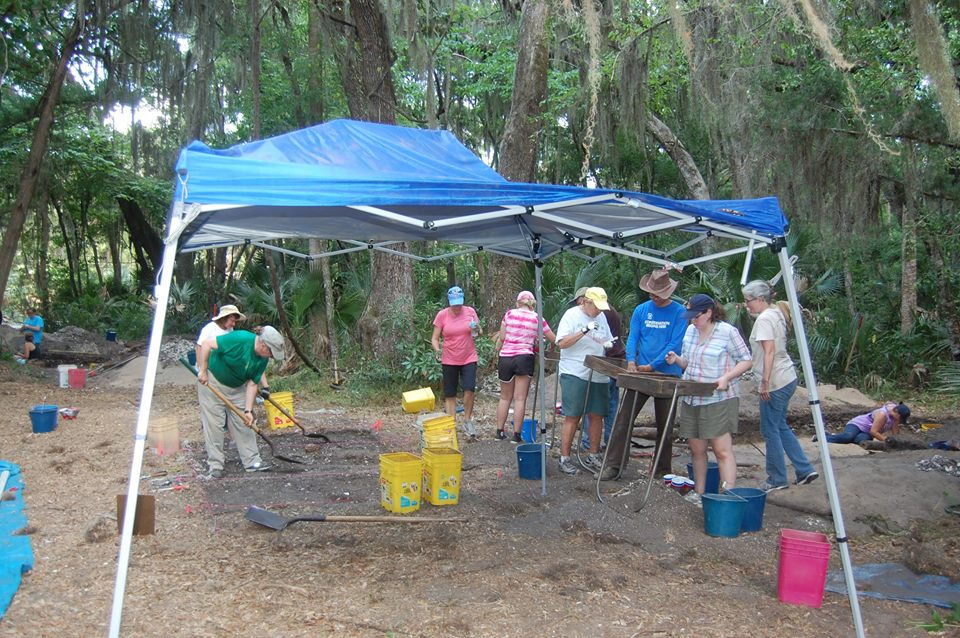 Mill Cove Complex
January 2019 - Archaeological Institute of America - Jacksonville Society members assisted in excavation at the Mill Cove Complex under the supervision of Dr. Keith Ashley of the University of North Florida.
The Mill Cove Complex is a group of prehistoric archaeological sites located in Duval County, Florida built by people of the St. Johns culture, approximately 900 to 1250 CE. The site encompasses two sand mounds, Grant Mound (8DU14) and the contemporaneous Shields Mound(8DU12) located 750 metres (0.47 mi) away, and an area in between the two which is full of St. Johns culture midden deposits.
For further reading about this site, download this file ["Introducing Shield Mound (8DU12) and the Mill Cove Complex" by Dr. Keith Ashley (PDF). The Florida Anthropologist.]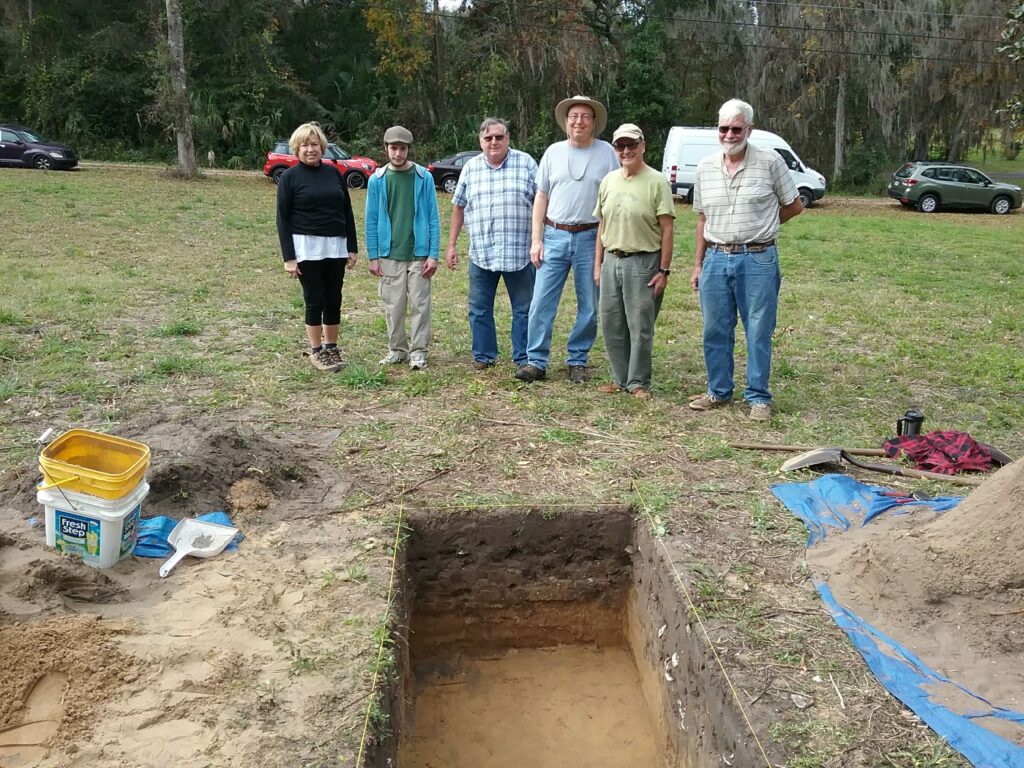 Fort Frederica National Monument
June 9, 2018 - ​Members of the Archaeological Institute of America - Jacksonville Society went on special private tour of the Fort Frederica National Monument.
Georgia's fate was decided in 1742, when Spanish and British forces clashed on St. Simons Island. Fort Frederica's troops defeated the Spanish, ensuring Georgia's future as a British colony. Today, the archaeological remnants of Frederica are protected by the National Park Service.
While on the site, AIAJAX members viewed the ruins of the town surrounding the fort, as well as ongoing excavations. A National Parks Ranger was the guide, and a picnic lunch followed.
Mandarin Museum
June 17, 2017 - Members were treated to a delicious picnic lunch at the Mandarin Museum followed by a tour of the Maple Leaf Collection conducted by Dr. Keith Holland, who led the excavation of the Civil War steamship Maple Leaf that was sunk in the St. Johns River.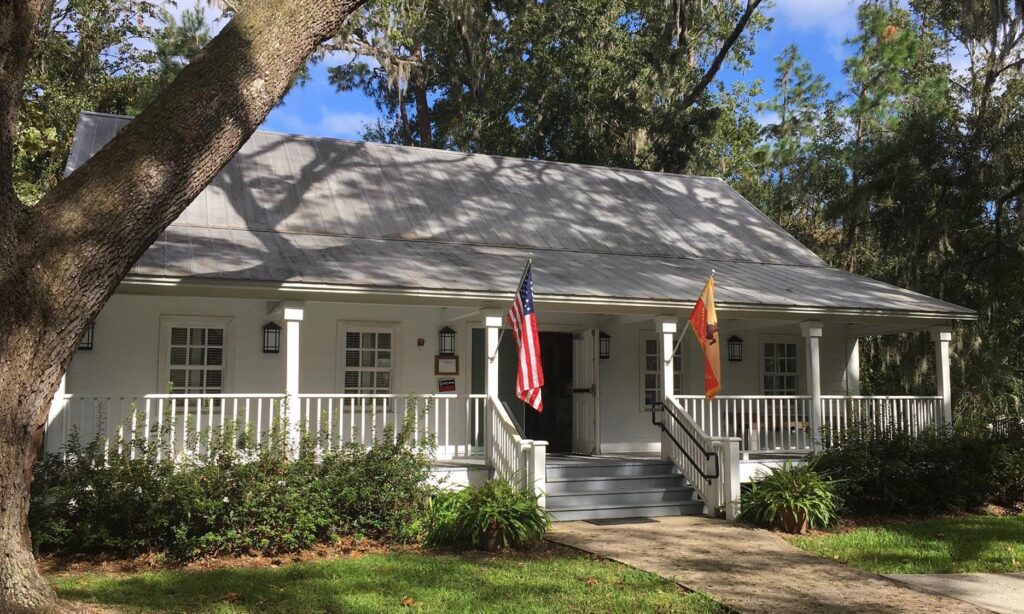 Fort Matanzas
July 16, 2016 - Archaeological Institute of America - Jacksonville Society offered a tour of Fort Matanzas in St. Augustine for its members and their guests. After the tour, we had a delicious free picnic lunch at the Washington Oaks Historic District.
INTERNATIONAL ARCHAEOLOGY DAY
International Archaeology Day is held each year on the third Saturday of October. It is a celebration of archaeology and the thrill of discovery. Every October the AIA and archaeological organizations across the United States, Canada, and abroad present archaeological programs and activities for people of all ages and interests. Whether it is a family-friendly archaeology fair, a guided tour of a local archaeological site, a simulated dig, a lecture or a classroom visit from an archaeologist, the interactive, hands-on International Archaeology Day programs provide the chance to indulge your inner Indiana Jones.