The Archaeological Institute of America - Jacksonville Society
The Archaeological Institute of America (AIA) is the world's oldest and largest archaeological organization. The AIA is a nonprofit founded in 1879 and chartered by the United States Congress in 1906. There are more than 100 local societies, like this Jacksonville Society, in the United States, Canada, and overseas. Members include professional archaeologists, students, and enthusiasts, all united by their passion for archaeology and its role in furthering human knowledge.
The AIA promotes archaeological inquiry and public understanding of the material record of the human past to foster an appreciation of diverse cultures and our shared humanity.
The AIA supports archaeologists, their research and its dissemination, and the ethical practice of archaeology.
The AIA educates people of all ages about the significance of archaeological discovery and advocates for the preservation of the world's archaeological heritage.
Professional archaeologists who are AIA members, have conducted fieldwork worldwide. The Institute has founded research centers and schools in seven countries and maintains close contact with these institutions. AIA Members are dedicated to the greater understanding of archaeology, the protection and preservation of the world's archaeological resources, and the support of archaeological research and publication.
___________________________________________________________________________________________________________________________________________________
SEASONAL LECTURES
Our speaker presentations take place at noon, in Building 51 at the University of North Florida, Jacksonville, (1 UNF Dr, Jacksonville, FL 32224)  AND/OR on Zoom.  The lectures are free and open to the public. After the lecture,  complimentary refreshments may be served in the Physical Anthropology Lab. On Saturdays, parking is free and the staff/faculty/vendor spaces are open to everyone.
2024 MEETINGS & PRESENTATIONS
Dr. Charles Cobb from the Florida Museum of Natural History at the University of Florida
Following the Metal Wake of Spanish Expeditions in the Southeast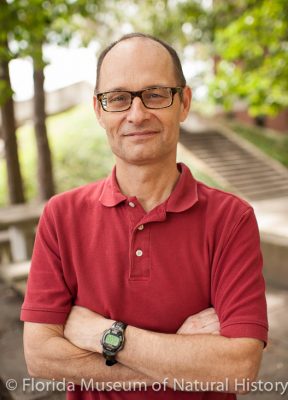 Many of the artifacts from 16th-century Spanish explorations found on Native American sites in the American Southeast have been documented from burial contexts. This has given rise to the received wisdom that these objects were usually gifts distributed to Indigenous elites. Over the past decade, archaeological research at sites in Mississippi, Alabama, and Georgia has challenged this perspective. Systematic-metal detecting surveys have revealed that objects of European origin are far more abundant than previously realized and are often found in domestic contexts. This work is opening up new interpretations about how Native Americans acquired European goods, as well as how they modified these objects in ways that aligned with Indigenous worldviews.
Charles Cobb has been the Curator of Historical Archaeology at the Florida Museum of Natural History since 2014. He also is Director of the Museum's Randell Research Center located on Pine Island in southwest Florida. He received his PhD in 1988 from Southern Illinois University and was subsequently a faculty member in anthropology at SUNY-Binghamton and University of South Carolina before his arrival at the University of Florida. Cobb has a long-term interest in the history and archaeology of Indigenous cultures of the southeastern United States, with a particular focus on interactions between Native Americans and European colonials. Since his arrival at Florida, he has been developing an online digital database of Florida Museum artifact collections from St. Augustine and Franciscan mission sites. Meanwhile, his field projects have had two emphases: first, addressing the impacts of Spanish expeditions on Native American societies during the 1500s A.D.; second, investigating the widespread abandonment of Indigenous towns in the mid-South during the 1400s A.D. Since 2015, his fieldwork has been carried out in collaboration with the Chickasaw Nation.
MAKE A DONATION
A donation of any amount helps us with speaker presentations. Just click the secure "DONATE" button below to use your credit card or PayPal account.
All of us enjoy the speakers and presentations that showcase the fascinating scope of archaeology in these exciting times of discovery and technological change. Your gift assists with expenses incurred by the visiting scholars and archaeologists at our events.

Thank you for your consideration and support! 
AIA MEMBERSHIP
Join the Archaeological Institute of America, the world's largest and oldest archaeological organization today, and be connected with thousands of other members who share your passion for archaeology!
Connect with thousands of members who share your passion for archaeology.
Participate in local events through an AIA Local Society.
Receive exclusive MEMBER BENEFITS.
Members like you support excavation, preservation, outreach, education, advocacy, and the professional activities of the AIA.
RECENT ARCHAEOLOGY NEWS
Germany Repatriates Artifacts to Mexico
BERLIN, GERMANY—According to a report in The Art Newspaper, 75 artifacts were repatriated to Mexico in a ceremony held at Mexico's embassy in Berlin. All but one of the items had been collected by a German national who had been working near Mexico's Gulf Coast some 120 years ago. The artifacts were then donated to the Museum Schloss Salder in 1963, where they were identified as Huastecan. The remaining artifact, a 4,000-year-old stone mortar tripod, was seized by customs officials in Leipzig. "Their restitution not only guarantees their preservation and study, but also returns a fundamental part of their historical memory to our Indigenous communities," commented Francisco José Quiroga Fernández, Mexico's ambassador to Germany. To read about a Maya nose ornament recently uncovered at the site of Palenque, go to "Around the World: Mexico."
---
Possible 1,400-Year-Old Temple Excavated in Eastern England
RENDLESHAM, ENGLAND—In the eighth century, an English monk and historian known as The Venerable Bede wrote of a king's village at "Rendlaesham," and of a temple equipped with both Christian and pre-Christian altars. BBC News reports that the site of a possible 1,400-year-old temple has been uncovered at Rendlesham in eastern England, which is located near Sutton Hoo, the archaeological site where East Anglian king Raedwald is thought to have been buried in A.D. 625. The possible temple structure measured more than 30 feet long and 16 feet wide, and had been built with substantial foundations. The excavation also uncovered evidence of a ditch that may have surrounded the royal village, traces of two other timber buildings, and a mold used for casting fine pieces of decorative horse harnesses similar to those unearthed at Sutton Hoo. "The possible temple, or cult house, provides rare and remarkable evidence for the practice at a royal site of the pre-Christian beliefs that underpinned early English society," explained archaeologist Christopher Scull of University College London. To read more about excavations at Rendlesham, go to "The Ongoing Saga of Sutton Hoo."
READ MORE RECENT ARCHAEOLOGY NEWS
CURRENT ARCHAEOLOGY MAGAZINE
Click the cover image for more details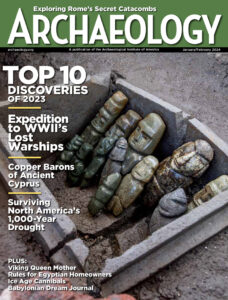 Top 10 Discoveries of 2023
ARCHAEOLOGY magazine reveals the year's most exciting finds
In the Time of the Copper Kings
Some 3,500 years ago, prosperous merchants on Cyprus controlled the world's most valuable commodity
When the Water Dried Up
How foragers in North America's Great Basin survived a 1,000-year megadrought
Midway's Lost Warships
Archaeologists survey the sunken aircraft carriers whose fate determined the outcome of WWII in the Pacific
The Power of Pergamon
From their monumental capital, the Attalid Dynasty ruled a realm where both Greek and Anatolian culture flourished